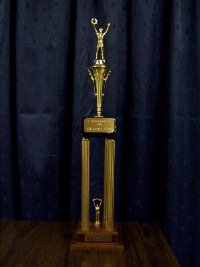 The 1999, UNO Awards Trophy Presentation
January 15, 2000
Click on any image to see larger.

Mike, 19 hours being mugged. He almost didn't make the festivities.

Cathy and Matt sharing a laugh before game one of the evening.

The 1999 Awards

Cathy and Matt giggling again.

Mark opens the ceremony.

Mark awards DJ the BIG trophy while Mike congratulates DJ on his very first Championship.

The official presentation.

The Winners

and the

Mike finishes with a hardy hand shake with Desert Joe (on right) and a wish that next year can be Mike's first UNO CHAMPIONSHIP.