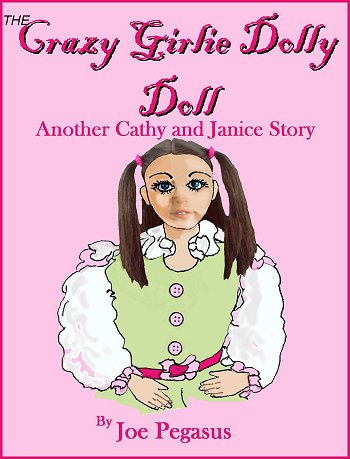 The Crazy Girlie Dolly Doll
Another Cathy and Janice Story
By Joe Pegasus
Copyright 2015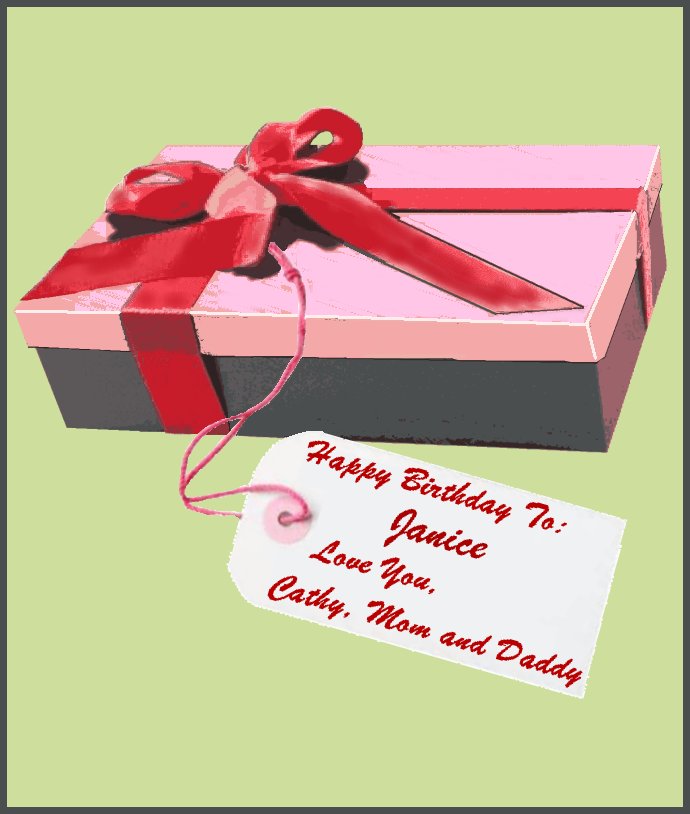 The gift box was opened and out came a doll.

Nothing and no one could be as beautiful, such a radiant smile with eyes light as diamonds and hair wavy as gathering clouds. Janice beamed so happy. She cherished all of her dolls. Yet this one is special, a baby to cuddle, care for and love.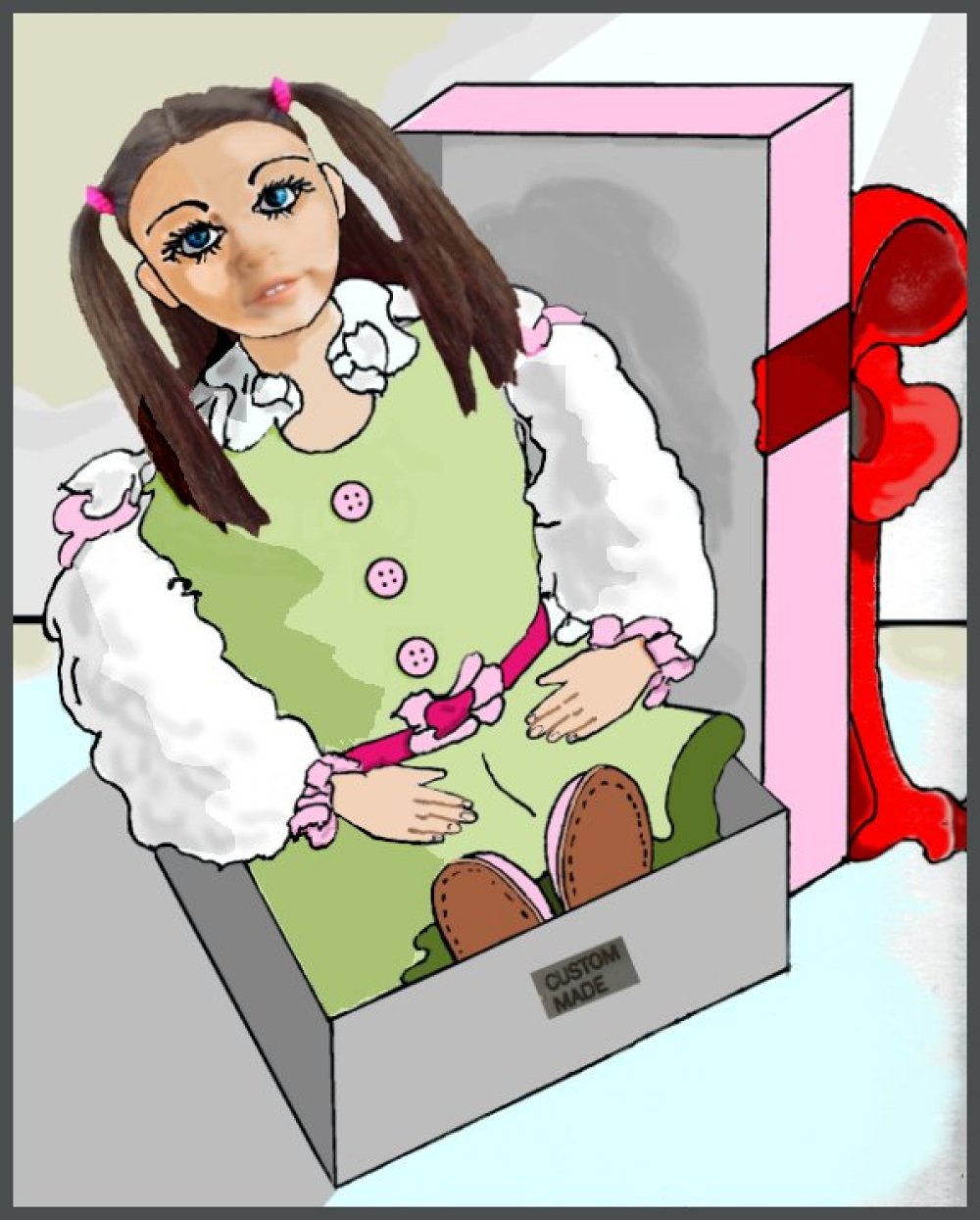 "Its name, her name?" cried Cathy. Mom too wondered what name Janice would name her new doll. They rattled off a string of names, from Sunshine and Shyanne to Pretty Baby and Peebles. Cathy even urged her sister to name her Cath. So Janice hugged her doll and looked carefully upon its face and with a single kiss she called her, "Dolly Doll!"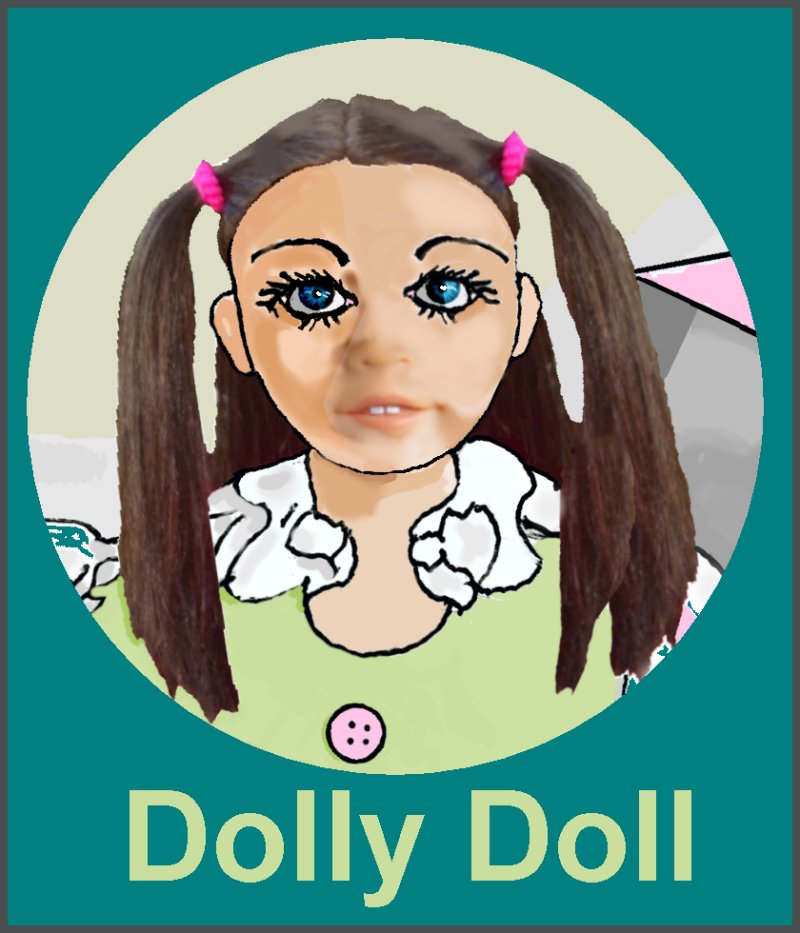 Mom giggled then smiled and shook Dolly Doll's hand. "Welcome to our family, you pretty little child."
But Cathy's brows stitched, her lips pouted and she thought silently to herself, there must be a better name for this doll. Cathy thought to herself that Dolly Doll could be better in other ways too. She looked beautiful, Cathy agreed, but if Cathy thought long enough and hard enough she believed she could find ways to make Dolly Doll even better.
Even so, Mom and Janice admired Dolly Doll's dress and Bobby socks and shiny shoes. Janice knew that Dolly Doll was the perfect doll.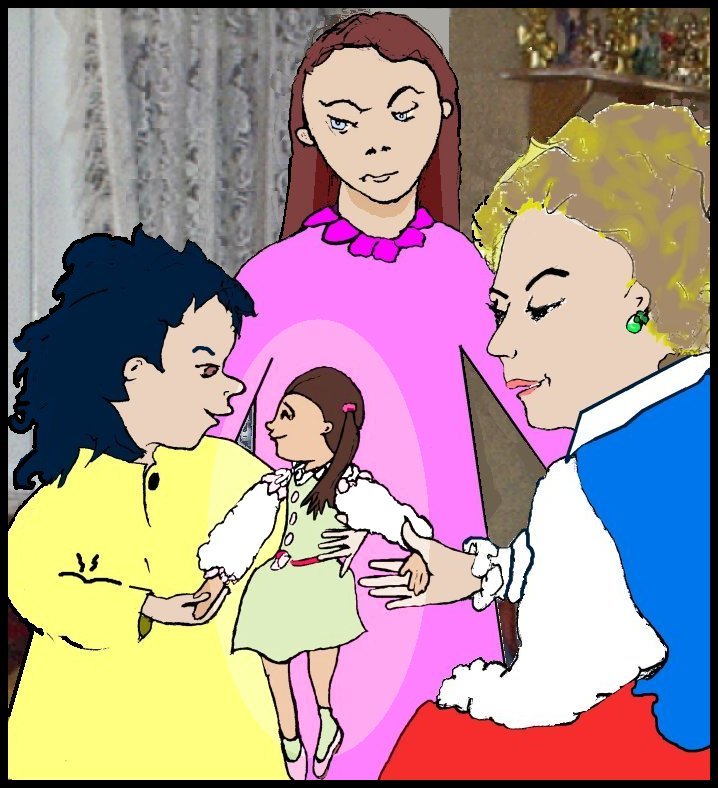 Later after lunch Erin appeared. Her mom stopped by to visit. Erin tagged along. Dolly Doll was the center of attention until Janice took Erin up to her room. They sat on Jan's bed and marveled at the new doll. So pretty, just perfect and squeezable soft, her hair like satin and she sat so upright! "Dolly Doll is as delicate as a butterfly," Erin told Janice. "Everyone loves butterflies and would never hurt them or ever want to change them."
The girls were 100% certain no better doll could possibly ever be.
Cathy stepped in. "Hiya!" Erin shouted. "Don't you just love Dolly Doll?" Janice sat Dolly Doll on her lap and instructed her to say HELLO to their older sister. Erin and Janice chuckled when Jan made the doll bow and wave at Cathy. When Erin made room for Cathy to sit along side them on the bed, Cathy took the doll onto her lap.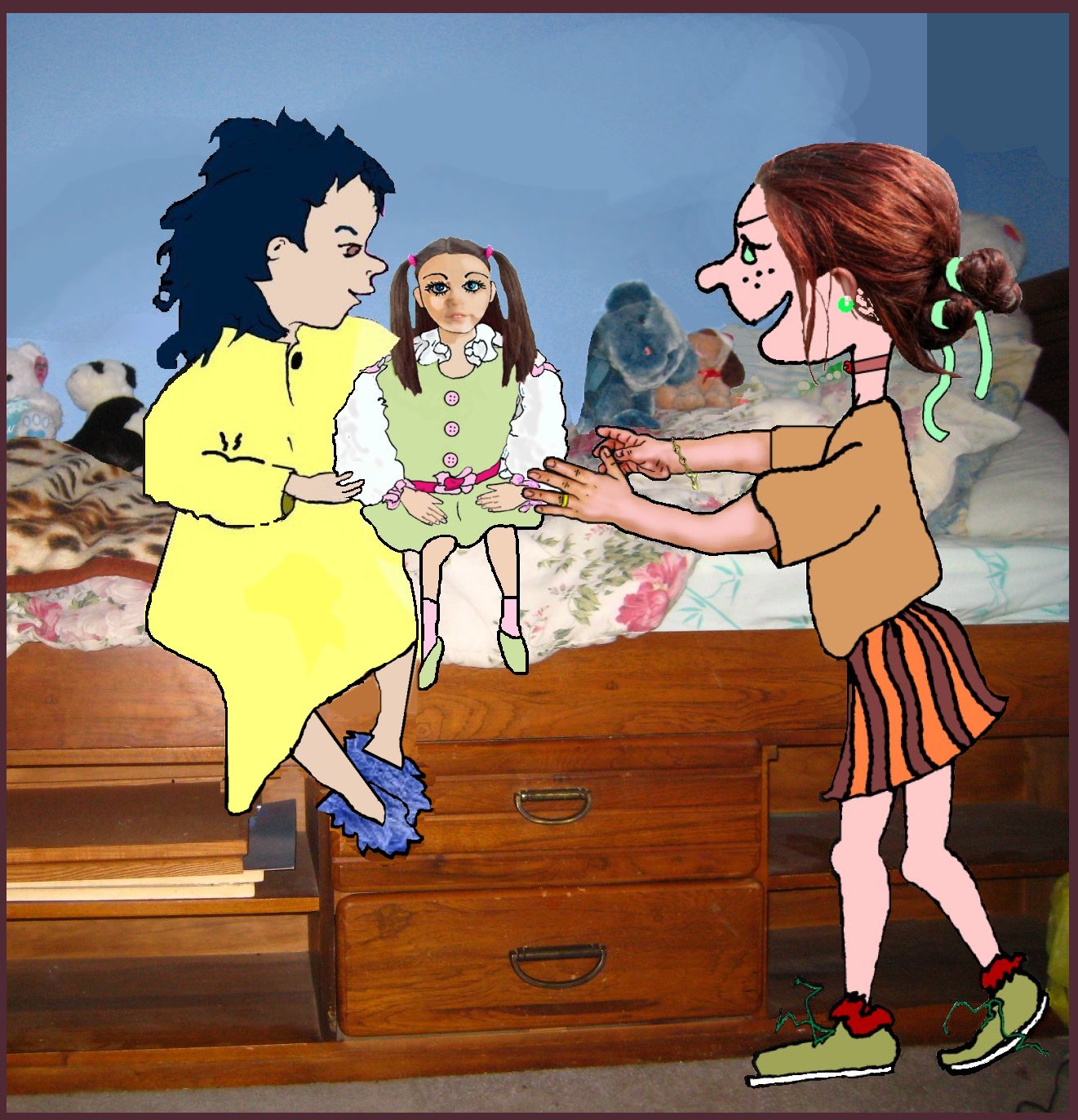 She studied the doll then turned to Janice. "Her hair would look better if she had a little curl on her forehead." Janice and Erin frowned but said nothing to the older and wiser girl. Cathy poked her finger into the hair on Dolly Doll's forehead and pulled and yanked until she made a curl right in the middle of her forehead. Cathy held the doll at arm's length for all to see. Smiling from ear to ear, Cathy remarked, "Now that's so much better!"
Cathy handed Dolly Doll back to her little sister and left the bedroom. Janice just stood and stared at the doll saying nothing. Erin saw the trouble on Jan's face and came to her side. She stroked the doll's hair and softly said, "It looks ... um ... OK ... different ... not bad."
Janice glanced at Erin then back at Dolly Doll there in her arms. "I guess she looks OK." Janice sat and placed the doll back on her lap. "But she was made perfect already."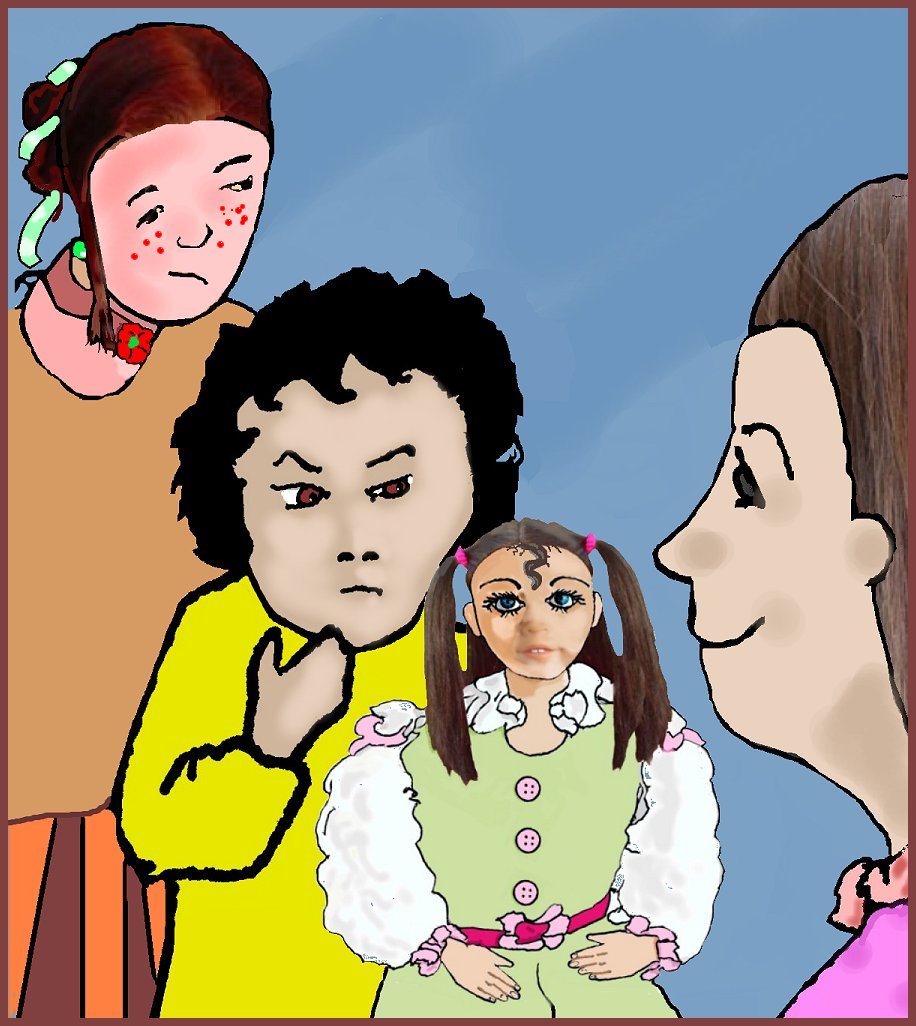 The very next day Mom baked cookies. Dolly Doll and Janice were in the kitchen along with Mom. They made the cookies together. When the cookies came out the oven and ready to eat, they called Cathy to share. In a flash Cathy appeared at the table. Mom placed a handful of cookies for the girls on the table. Janice made sure a few were set before Dolly Doll too.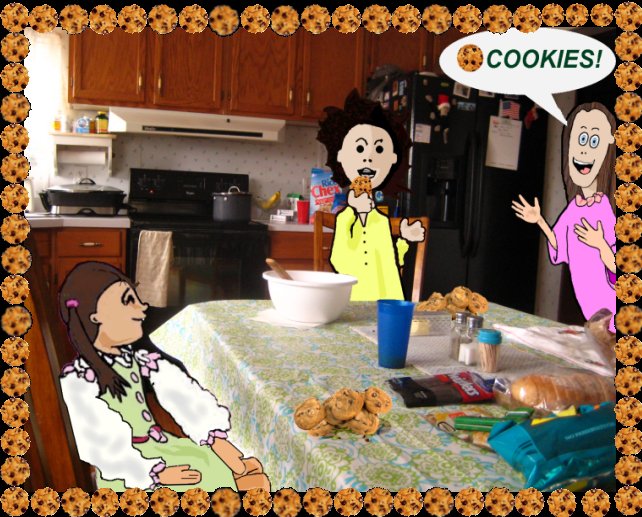 Mom asked if the doll's hair came undone. Janice just looked over at Cathy who answered, "Don't you think Dolly Doll looks so much better with that cute curl?" Mom just shrugged. She asked Janice what she thought of the curl. Janice just shrugged too. Suddenly Cathy shot straight up out of her chair and with a finger in the air she shouted, "There's another improvement I can make!" Turning to a jar on the kitchen counter Cathy grabbed a dark brown marker. Before Mom or Jan knew what was planned, Cathy pressed it to Dolly Doll's cheek. Pulled away and declared, "There! A beautiful beauty mark!"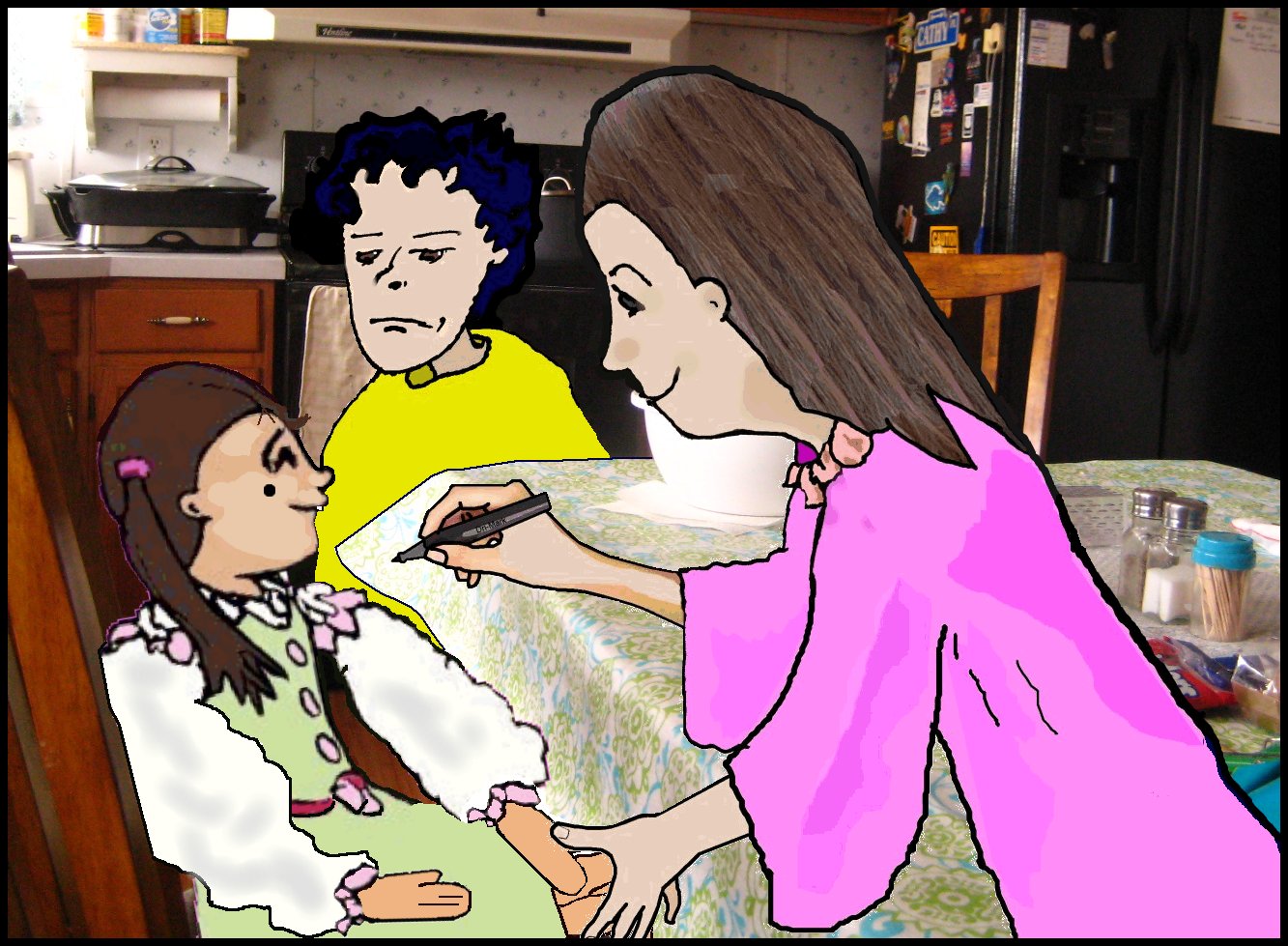 Then, just as fast Cathy said Dolly Doll would look just perfect with grown up lips stick on.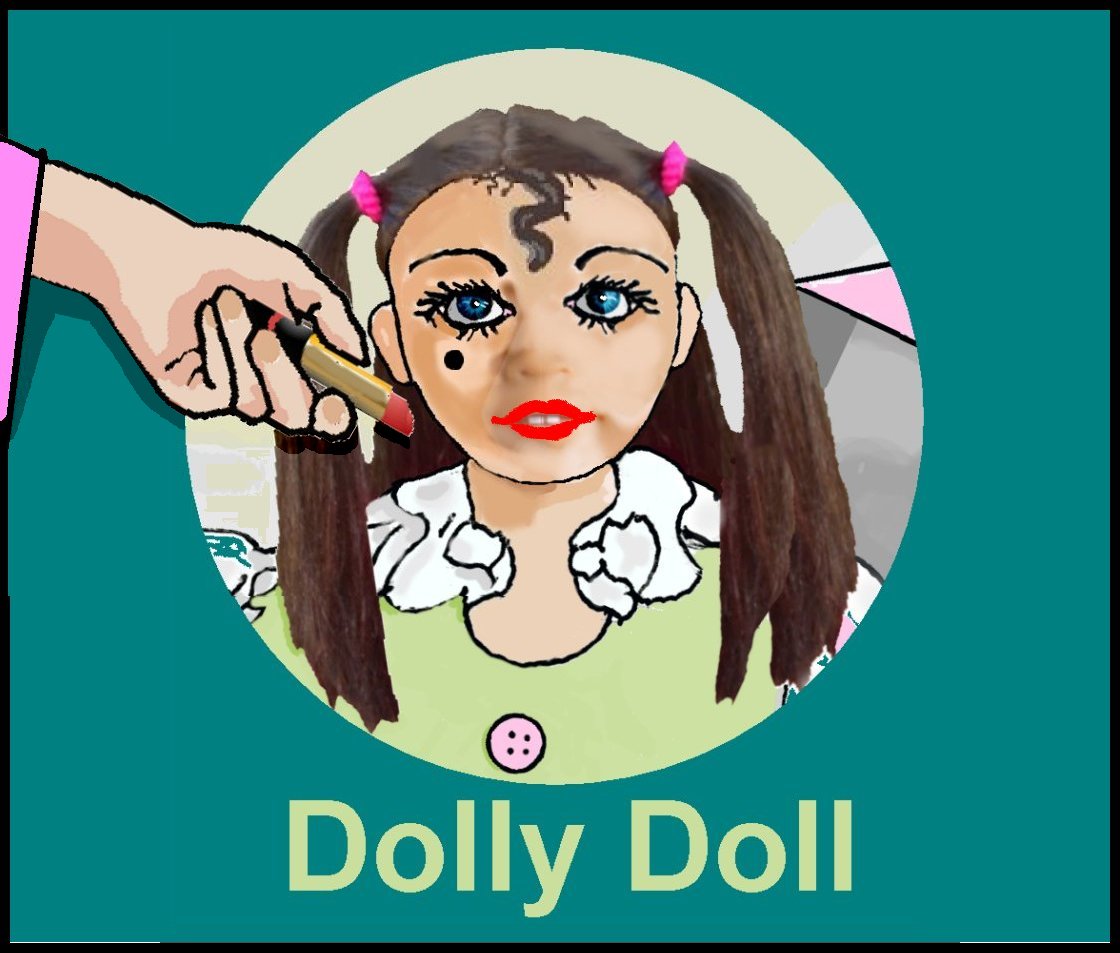 The very next day Erin spent all day playing with Janice and Dolly Doll. They played dolls, and house, and make believe. Later on Erin asked where Cathy had been all day. Janice told her that Cathy hid away in her room. Cathy had said she needed to work on a secret project. Janice felt Cathy should spend the entire day locked away for what she had done to Dolly Doll. But Janice said nothing. She is a good little sister.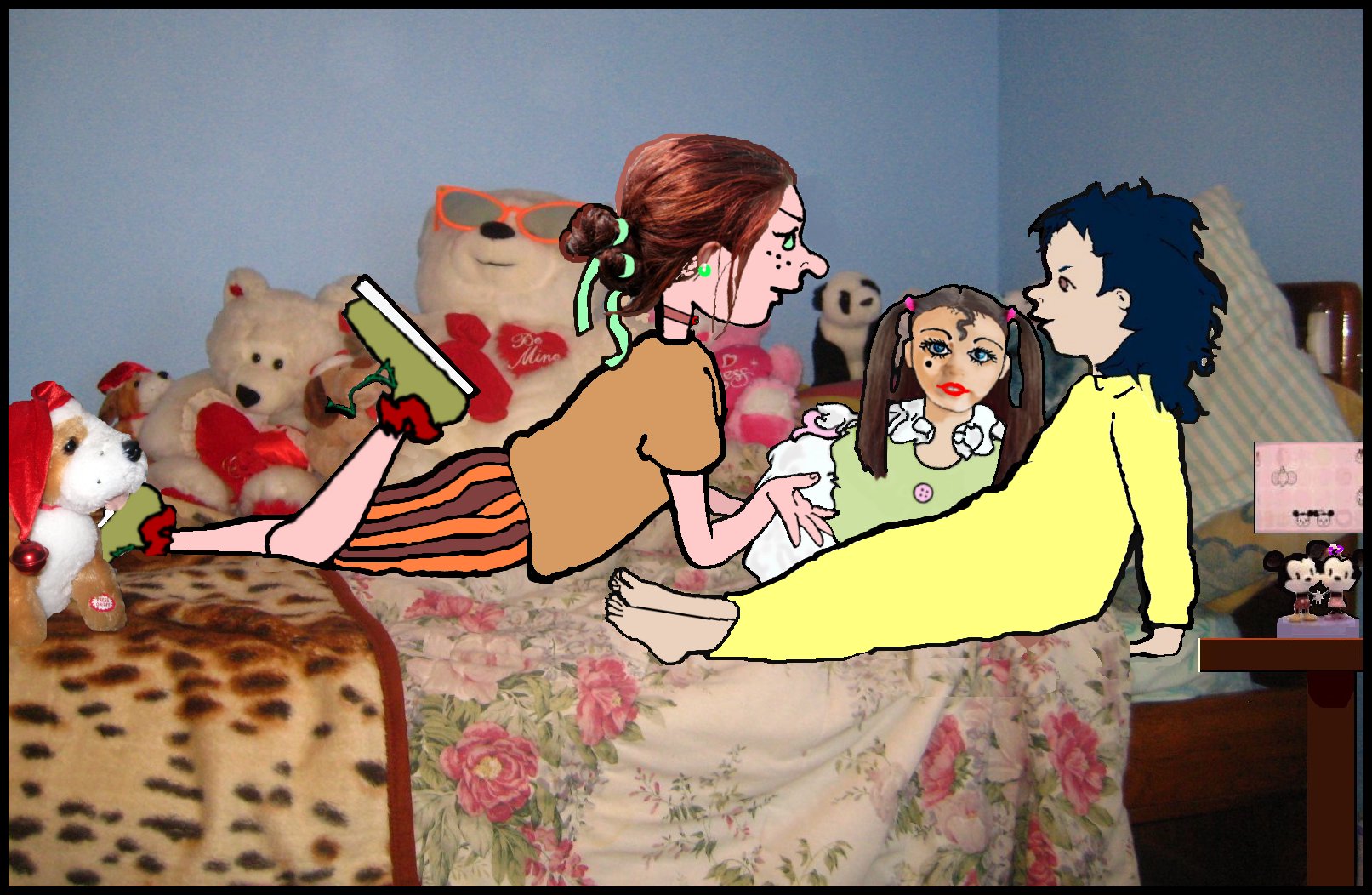 Minutes after their conversation, Cathy appeared from out of her room. She beamed with a wide smile as she came to the girls. "I have a big surprise for you," she declared. "I can make Dolly Doll the best perfect doll in the whole wide world!" Without so much as a 'please' or a 'thank you' Cathy swiped up Dolly Doll then turned and ran from the room. Erin and Janice looked at each other in complete amazement. Janice grumbled under her breath. She asked, "How does one make perfect better than perfect?"
Erin only shrugged and answered, "There is no such thing as better than perfect."
The girls looked at each other than at Cathy as she took Dolly Doll into Cathy's room. They wondered whatever was Cathy up to?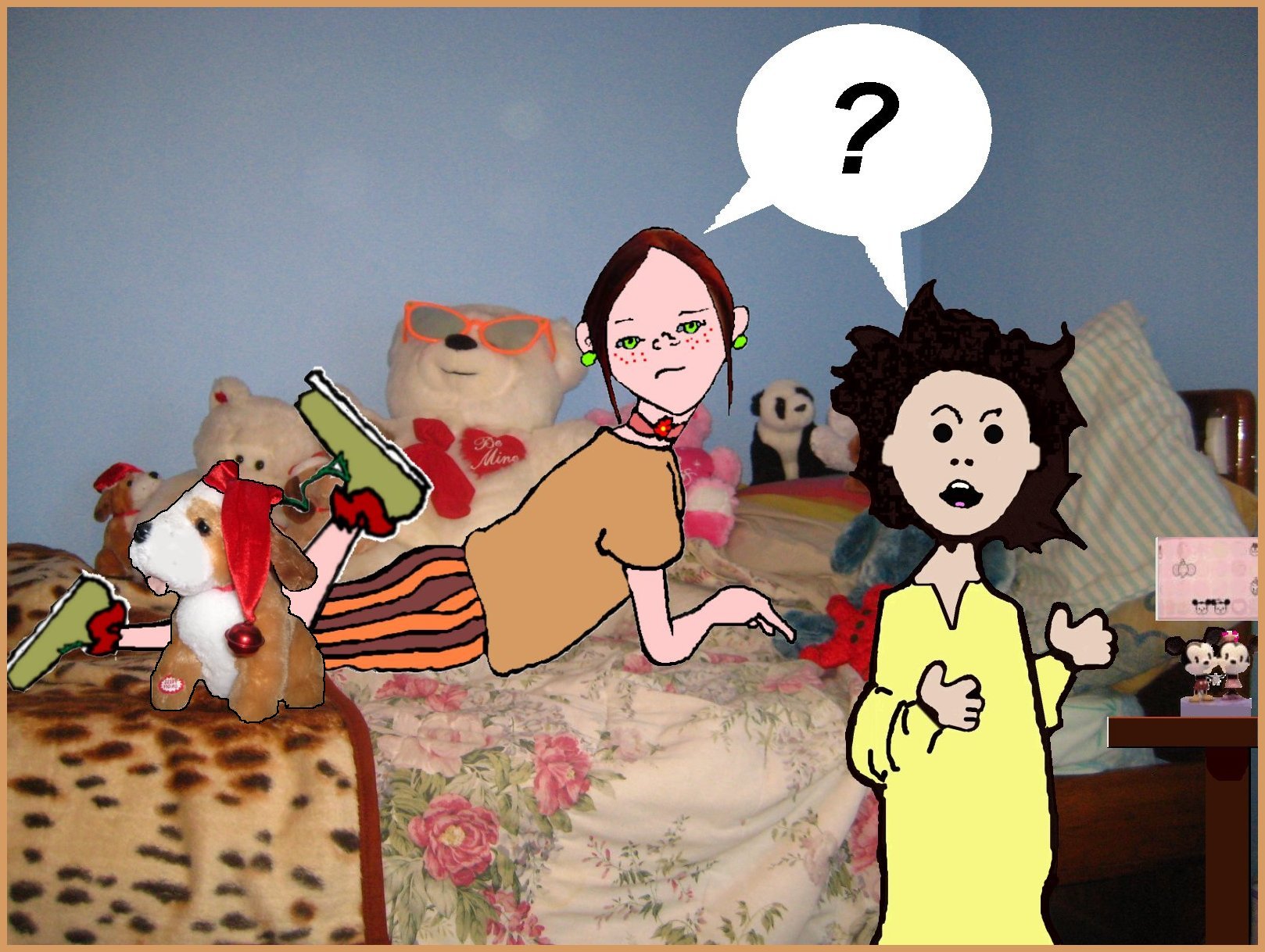 Cathy again hid in her room. She had spent almost all day stitching, sewing, cutting and pasting. She gathered up all her paints to design better eye makeup for Dolly Doll. Pink paint to paint rouge on her cheeks. Her old red dress, was now even too small to hand down to Janice, came in handy for what Cathy had in mind. She worked hard, very hard to make Dolly Doll just perfect.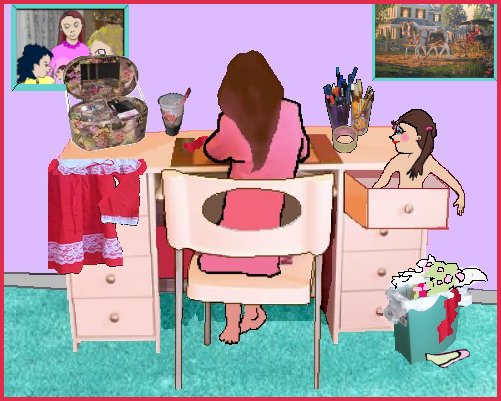 Finally Cathy popped from her room. In her hands she proudly held up Dolly Doll so Janice and Erin could see the fruits of her labors. Cathy was very disappointed when the girls screeched in horror rather then cheer Cathy's efforts. "But Dolly Doll is now perfect." Cathy cried. "Look at her face, her clothes, her hair, her dress, her shoes."
Erin only grimaced and lowered her head. Janice turned red with anger. "You made me so angry, Cathy, I could harm a butterfly right now!" She shook her finger at her older sister and shouted at her, "Dolly Doll was born perfect! All you did was ruin her. You like her this way, you keep her. That doll is not anything but some kind of crazy, girlie, Dolly Doll.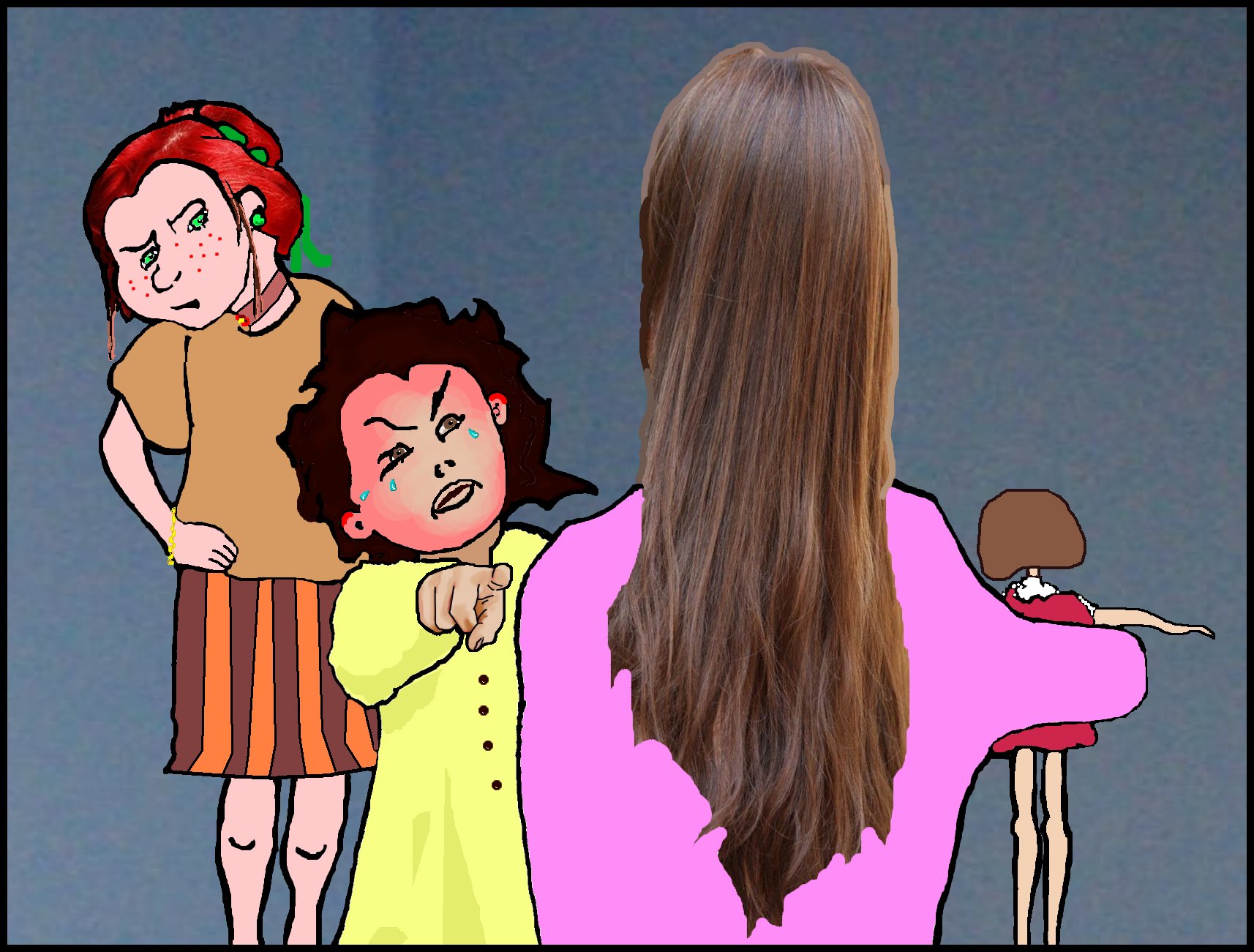 Cathy's feelings were also hurt. Not as much as poor Janice. But the damage had been done. There was no way Cathy could put Dolly Doll back to the doll she started out as.
Perfect can be perfect only once. And once it is; leave it alone.
THE END